Color Additives
KibbeChem Permacolor "Let us show your true colors"
With KibbeChem's state of the art laboratories and expert color consultants, our clients enjoy the best color-creation and color-matching in the business.
Available in powder, low dust, pellet or liquid form, our color concentrates are designed to suit your specific needs. Whether pellet or liquid, our on-line liquid and pigment dispersion technology gives you an efficient, controllable, low dose addition rate that will make your process more efficient and cost effective.
Our superior lab capabilities enable us to design specialty compounds to suit any application and allow us to deliver batch-to-batch consistency, superior color performance and analyze your color problems quickly to ensure minimum downtime in your process. "Let us show your true colors" in your pipe, profile, sheet, decking or composite board.
Benefits of KibbeChem Permacolor: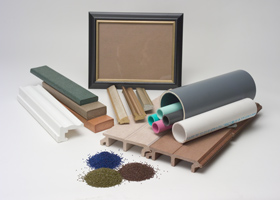 Get consistent and accurate color performance
Design your own color
Benefit form quick sample turnaround times
Run small batches
Reduce your inventory
Speed your market response time
Achieve excellent U/V protection and color fastness